The revolutionary digital VMI platform, ShelfAware, helps an Olathe, Kansas-based manufacturer of power transmission products simplify their complex supply chain through automation.
By using a magical user interface that produces accurate and granular consumption data, ShelfAware has answered the question that has been puzzling industrial suppliers for decades—"When did we consume what?"
Real-time consumption data flows through the ShelfAware app and is visible to both the suppliers and consumers, ensuring a lean inventory pipeline with no stockouts.  The consumption data is also used to automatically generate the required supply chain documents. It automates sales order entry for the suppliers and eliminates purchase order entry and receipt entry for the consumer.
ShelfAware is a big win for the entire supply chain—24/7, 365 days a year, ShelfAware has eyes on your inventory. If you want to know what is on your shelf, this digital vendor managed inventory (VMI) platform provides total visibility and massive amounts of data to track.
ShelfAware is an RFID-powered inventory platform designed to support multiple product vendors and collectively support large complex supply chains demanded by manufacturers today. Read about how Eskridge, a manufacturer of power transmission products, simplified their complex supply chain by implementing the robust, but easy-to-use platform, ShelfAware.
How Digital VMI Makes Supply Chain Management Easy and Accurate
The ShelfAware process starts at the supplier's shipping point. Suppliers apply an RFID smart label to their product packaging. These intelligent labels are powered by passive RFID technology that allows the ShelfAware platform to remotely collect accurate and granular inventory consumption data.
For example, the product arrives at a manufacturing facility like Eskridge where it is binned and then waited to be consumed. When an Eskridge employee needs to build a gear box for a customer, they simply walk to the inventory area and grab what they need—a bag of retaining rings, a custom hose assembly, and a bag of O-rings.  These products can be provided by different product suppliers that are picked by the consumer for their expertise in the product category.
Next, the employee takes the products needed to build the gearbox to the ShelfAware checkout station. They simply swipe all the items over the table, wait for the light to change from green to blue, and then go back to work.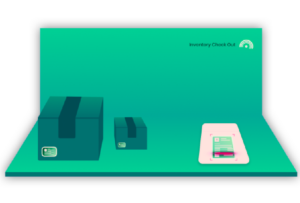 "We make anything that puts a hole in the ground—the auger or head for that," says Jay Chugden, Eskridge Inventory Coordinator. "Our equipment goes on anything from fire trucks to anything that goes up and moves and turns. It previously took hours to manage all of our O-rings and bolts. It was a huge pain. We weight counted most of it, but each scale is a little bit different, so it wasn't accurate. We often had to count and recount."
After installing ShelfAware, the scanning process became less cumbersome and more accurate.
"The scanning system streamlines everything," Chugden says. "You just grab it, scan it, and go."
How Digital VMI Eliminates Stockouts
Eskridge Receiver Jim Russell says that ShelfAware eliminates the possibility of running out of shelf life on O-rings and seals. "They are now in smaller packages, and it's easy to just grab whatever you are building for the day. You don't have to get a package of 100 if you are only going to use 20. ShelfAware increases efficiency quite a bit. Very few of my vendors make my job easier. But this system has done that."
Eskridge Senior Supply Coordinator Richard Griffin says he would spend hours, sometimes days, each week ordering O-rings, snap rings, seals and other parts. "Now, I spend that time sending out quotes for cost savings, looking for new vendors, sending out quotes for new products—all important tasks that I simply did not have the time for previously."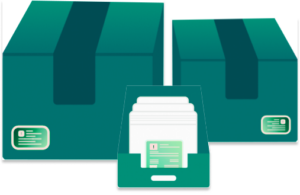 The RFID smart labels provide a magical user interface that allows Eskridge to know exactly what parts are on the shelf. "The last thing I want to do is hold up a $100,000 gearbox because I'm waiting for a .017 cent part," Griffin says.
Digital VMI Provides Accurate, Granular Data for Eskridge
A magical user interface like RFID smart labels eliminates the need for screens, keyboards, and handheld or peripheral devices—all of which most manufacturing floor operators find inconvenient and obtrusive.
Traditional vendor managed inventory systems use barcodes to track products, but this system is outdated. It's not practical for a consumer to scan hundreds of barcodes per day, and the data collected is limited.
With a magical user interface, like RFID technology, the user can collect a bag of 500 pieces along with 100 other various pieces in a tub. When placed on the scanning table, one RFID scan calculates the entire inventory of all the pieces in the tub in seconds. The speed that RFID smart label technology provides also includes extremely accurate data.
Larry Hale, Eskridge Shipping/Receiving/Inventory Lead Man, says the accurate data is a game changer.
"We are much more accurate now. We know if we take a bag of 10 out, when we scan the bag the parts are taken out of our system and we know we can make 10 units with that bag. If not, we need to figure out why we didn't. We are much closer on our inventory this way. We are not losing as much, which saves us money. It's pretty simple. You just set it on the table and when the light changes colors, you are good to go. It eliminates us having to call the vendor to tell them we are out of something. It's automatic. When we get down to a certain number, they send us more parts."
How to Get Started With a Robust Digital VMI?
Implementing ShelfAware's robust platform is often complex but does not need to be slow. It begins with a group conversation involving a mix of finance, operations and IT professionals. A site audit (often multiple sites) is usually required before a proposal can be made.
Final proposals usually involve a formal stocking agreement, installation fee, and a product pricing quote. Onboarding consumers varies widely, but the minimum time required to convert a supply chain in most markets is about three months.
Want to learn more about an affordable way to automate your supply chain? Request your free ShelfAware demo 
Too good to be true?  ShelfAware is redefining the vendor-managed inventory industry. For this reason, we're happy to talk to you about how our intelligent inventory platform can benefit your business. Contact us today for more information.
More articles about using a digital vendor managed inventory system to solve your supply chain challenges:
10 Reasons Why RFID is Better than Barcodes
Common Mistakes Manufacturers Make When Automating Inventory Management
3 Must-Have Features of Effective Digital VMI
How Manufacturers Can Automate Inventory Management Quickly, Effectively, and Inexpensively
How Automation Solves America's Broken Supply Chain
How Supply Chain Automation Gives Your Company a Competitive Edge
Everything You Need to Know About Digital Vendor Managed Inventory
Why Cloud SourcingTM is a Game Changer for Digital VMI Systems
How Energy Manufacturing Tackled Inventory Challenges with an Affordable, Easy-to-Use Supply Chain Solution
What Kinds of Manufacturing Businesses Can Benefit from Inventory Management Software?
Top 10 Advantages of RFID Inventory Tracking
7 Ways to Save Time and Money with an RFID Inventory Management System
How Automation Improves Manufacturing Operational Efficiency
[gravityform id="2″ title="true" description="true"]