RFID is an effective solution for managing supply chain operations. It assists with product tracking, increases visibility, and improves product availability. Learn some of the other benefits of incorporating an RFID tracking system to manage your inventory.
For warehouse managers and operators, inventory visibility and control are crucial to boosting productivity and maximizing throughput. In fact, inventory management is at the heart of a facility's ability to tackle critical supply chain challenges.
Radio frequency identification tags (RFID) are a sophisticated but easy-to-use technology that has been proven to increase the visibility and tracking of products, pallets, shipments, and spare parts in warehouses and distribution centers.
That's why leading inventory management companies like ShelfAware focus on RFID technology that is gracefully applied to the inventory labeling process as opposed to bin management or vending machines. By tracking packages this way, existing inventory storage areas can be effectively turned into virtual vending machines—maintaining the flexibility to track any size or shape of inventory.
There are many advantages with using RFID technology to manage complex inventories, but first, let's take a look at how this technology has become industry's top supply chain solution.
What You Need to Know about RFID Inventory Management Systems
RFID is a highly versatile technology with applications throughout business—from controlling manufacturing processes to managing assets to maintenance and inspection of equipment and tracking goods through to distribution. RFID tags for inventory management are attached to the items being tracked, and each label contains a unique identifier. RFID readers use radio waves to communicate with the tags, and the software application is used as a database to track and manage the data collected.
Effectively automating B2B supply chains with RFID technology can save time and labor for both the consumer and the supplier.
For example, the ShelfAware platform focuses on RFID Smart Labels as a data collector. ShelfAware Smart Labels are printed on standard Zebra label printers and applied by suppliers at the time of shipping. An RFID checkout station is deployed on behalf of the supplier at the consumer facility. This magical user interface is capable of tracking the consumption of thousands of inventory packages in seconds, ensuring broad user adoption.
This inventory consumption data is leveraged by a web-based application to automate replenishment, ensure lean inventory quantities, and guarantee no stock-outs.
10 Ways RFID Inventory Management Can Help Your Business?
The automated, low-labor nature of RFID inventory management is a primary benefit. However, there are many other important advantages: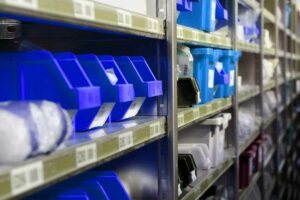 Eliminate production delays due to missing parts or stock outs. Since everything is tracked, RFID tags can eliminate stocking issues by prompting you for reorders and improve security in your facility.
Eliminate the need for manual purchase orders. Everything is automated and RFID tags contain more information for tracking and tracing products and keeping consumers, retail partners, and other supply chain partners in the loop.
Eliminate restrictive minimum order requirements. A more accurate inventory equals more flexible ordering parameters.
Create full supply chain visibility from the shelf to the vendor. More information processed and captured leads to better visibility across your supply chain.
Reduce labor costs.Since the tags automatically generate and report information when scanned, it eliminates the labor costs. RFID offers inventory check-in, counting, and shipment verification that can be done very quickly and automatically in a few scans without the need for multiple employees to process them.
No line-of-sight requirements.RFID tags work independently of line-of-sight systems, like barcodes. In other words, workers do not have to turn boxes to align barcodes, apply barcodes, or deal with damaged barcodes. Without the "line-of-sight" requirement with barcodes, it is possible to read RFID tags at a distance for fast inventory processing.
Scans more items, faster.RFID tags can also process and catalog information faster than the best handheld barcode scanners.
Less susceptible to damage.Due to their construction, often in plastic or hard shells, RFID tags are less likely to be damaged in the packing, shipping, and receiving process.
Tracking of returnable assets.For those companies that utilize a returnable fleet of assets such as containers and pallets, there is often a significant capital investment to protect. Utilizing RFID allows you to track these assets through the entire supply chain loop and provide increased visibility on inventory locations. This has the added benefit of improving returns and reducing theft or neglect.
Increase inventory accuracy. Read about how Energy Manufacturing used an RFID inventory management system to improve inventory accuracy.
Request your free ShelfAware demo 
Too good to be true?  ShelfAware is redefining the vendor-managed inventory industry. For this reason, we're happy to talk to you about how our intelligent inventory platform can benefit your business. Contact us today for more information.
More articles about using inventory management to solve supply chain challenges:
How Energy Manufacturing Tackled Inventory Challenges with an Affordable, Easy-to-Use Supply Chain Solution
https://shelfawarevmi.com/manufacturing-supply-chain-solution/
What Kinds of Manufacturing Businesses Can Benefit from Inventory Management Software?
https://shelfawarevmi.com/inventory-management-software-benefits/