The ability to track inventory at scale in real time has never been more critical to manufacturers, distributors, suppliers, and end users. However, many companies continue to rely on outdated manual processes that are too expensive, require too much manpower, do not produce enough consumption data, and are error-prone. Read about some mistakes to avoid when digitizing your inventory management system.
Limited intelligence about the location and quantity of inventory in stock can restrict manufacturers and suppliers from adequately serving their customers. Many companies are digitizing their inventory management with success. This leads to an increase in profits, fewer stockouts, and less manual labor.
But as effective as a digital vendor managed inventory (VMI) system can be, often mistakes are made that cost valuable time and money and hinder the efficiency of an automated inventory.
Here are some mistakes to avoid if you want a robust and effective digital VMI system.
No Collaboration is a No-No When Digitizing Inventory
When rolling out a digital VMI, the biggest mistake that manufacturers make is starting that system at their backdoor—failing to collaborate with suppliers. Collaboration is where an efficient system should start. If you don't start at the beginning of the digital supply chain, it's much harder to go back and fill in those blanks.
At the genesis of the product, the information collected includes batch, heat, item ID, item description, extended description, etc. If that information is generated when the item is generated with the data carried through the supply chain ultimately to the end consumer, it's a much more efficient digital supply chain method.
Most manufacturers are unaware that there is a system available that helps them collaborate digitally with suppliers. They will generally launch an internal process that begins in the receiving department with barcode labeling from the back door. It's difficult to experience a positive ROI because two or three inventory managers are required to collect the data and facilitate the process.
ShelfAware's Cloud SourcingTM is a game changer for companies who embrace the idea of collaboration among suppliers.
Using Barcodes Instead of RFID Tags is a VMI Missed Opportunity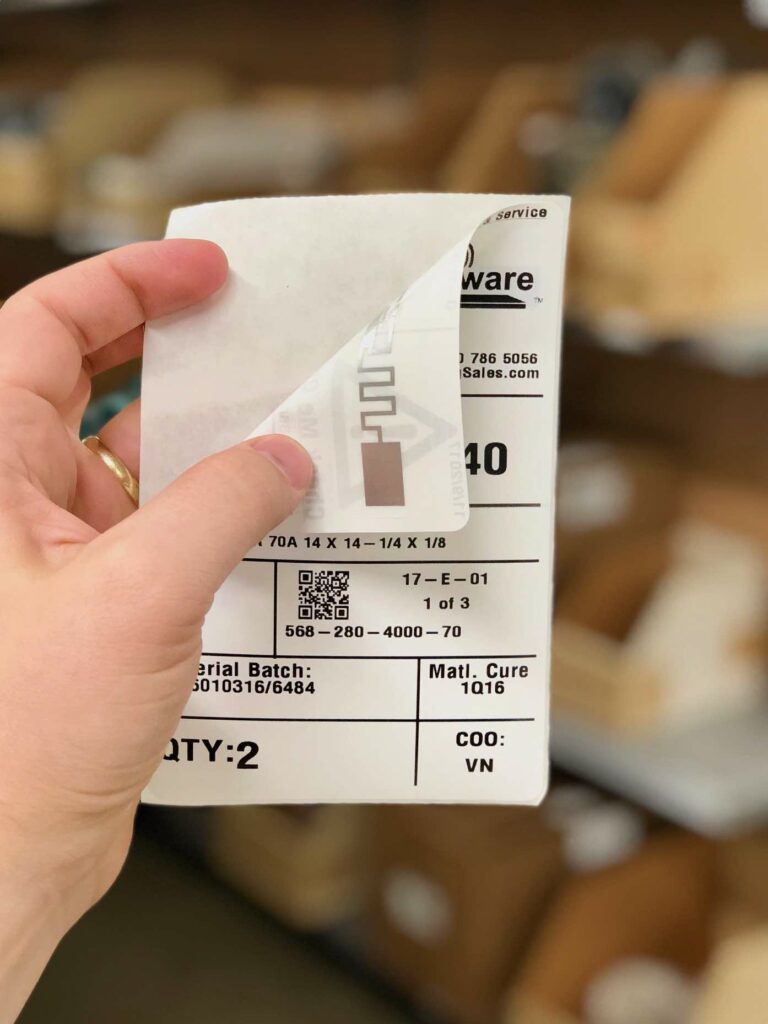 A magical user interface like RFID smart labels eliminates the need for screens, keyboards, and handheld or peripheral devices—all of which most manufacturing floor operators find inconvenient and obtrusive.
Traditional vendor managed inventory systems use bar codes to track products, but this system is outdated. It's not practical for a consumer to scan hundreds of barcodes per day, and the data collected is limited.
With a magical user interface, like RFID technology, the user can collect a bag of 500 pieces along with 100 other various pieces in a tub. When placed on the scanning table, on
e RFID scan calculates the entire inventory of all the pieces in the tub in seconds. The speed that RFID smart label technology provides also includes extremely accurate data.
A VMI Without Accurate, Granular Consumption Data is Obsolete
Accurate and granular consumption data is a key ingredient for any effective digital VMI. ShelfAware collects the granular data by applying RFID smart labels to package quantities as opposed to bulk bin quantities.
A traditional VMI system will stock inventory using a case count or bin count of loose stock. This limits the ability to stock the smallest amount of pieces at any given time.
Granular, highly-detailed consumption data can be collected by allowing suppliers to tag packaging in flexible quantities. In fact, it's possible to stock down to only one piece at a time, which is the most granular data point possible. Analyzing accurate consumption data over a period of time, allows suppliers to determine the lowest possible inventory required on the shelf without stocking out.
It's a Mistake to Spend Too Much Money on Your Digital VMI
No matter the size of your supply chain, gross profit margin matters. Traditional VMI systems incur huge expenses for manual labor. Gigantic suppliers can sometimes afford expensive, high-tech digital VMI solutions but the huge price tags for those systems don't make sense for small-to-medium sized suppliers.
ShelfAware provides a digital VMI solution that is robust, scalable, and affordable for any size supplier or consumer—small, medium, and large.
The ShelfAware digital VMI solution requires no money upfront and then only $500 per month, which offers an efficient, robust system with significantly low cost to the user. This makes ShelfAware a viable solution at all sizes of manufacturing facilities, including very small industrial consumers with smaller supply chains. Even the smaller users can experience a quick return on their investment.
Are You Ready to Get Started With a Robust Digital VMI?
Implementing ShelfAware's robust platform is often complex but does not need to be slow. It begins with a group conversation involving a mix of finance, operations and IT professionals. A site audit (often multiple sites) is usually required before a proposal can be made.
Final proposals usually involve a formal stocking agreement, installation fee, and a product pricing quote. Onboarding consumers varies widely, but the minimum time required to convert a supply chain in most markets is about three months.
Want to learn more about an affordable way to automate your supply chain? Request your free ShelfAware demo 
Too good to be true?  ShelfAware is redefining the vendor-managed inventory industry. For this reason, we're happy to talk to you about how our intelligent inventory platform can benefit your business. Contact us today for more information.
More articles about using a digital vendor managed inventory system to solve your supply chain challenges:
3 Must-Have Features of Effective Digital VMI
How Manufacturers Can Automate Inventory Management Quickly, Effectively, and Inexpensively
How Automation Solves America's Broken Supply Chain
How Supply Chain Automation Gives Your Company a Competitive Edge
Everything You Need to Know About Digital Vendor Managed Inventory
Why Cloud SourcingTM is a Game Changer for Digital VMI Systems
How Energy Manufacturing Tackled Inventory Challenges with an Affordable, Easy-to-Use Supply Chain Solution
What Kinds of Manufacturing Businesses Can Benefit from Inventory Management Software?
Top 10 Advantages of RFID Inventory Tracking
7 Ways to Save Time and Money with an RFID Inventory Management System
How Automation Improves Manufacturing Operational Efficiency