If your automation practices and systems are years or decades old, you may be surprised by what the current automation landscape offers. Automation is one of the most effective ways to improve operational efficiency, and a great place to start is with an affordable RFID inventory management platform.
Manufacturers continuously look for ways to improve operational performance and efficiency. Leveraging your equipment, personnel, and processes can require a significant investment in time and effort, but there are some simple ways to get started affordably so that you can benefit immediately from measurable wins.
Debunking the Obstacles to Implementing Automation Solutions
Some manufacturers find leveraging automation solutions challenging. Some have concerns that implementation and deployment may be too costly. Others fear they don't have the proper framework to support automation, or they worry that employees will push back because they may see it as a threat to their jobs.
The reality is that delaying automation can actually create more costs. Regardless of your industry, automation can deliver operational efficiency wins with minimal investment. Applying automation to labor-intensive tasks can be the ideal solution for the efficiency challenges that many businesses face.
How to Improve Operational Efficiency with Automation
It is paramount that management and operational teams receive time-critical information quickly. Intelligent automation solutions have been proven to save time and money for manufacturers. Sophisticated, easy-to-use automation solutions can help manufacturers work smarter and more efficiently by:
Providing access to real-time data
Improving the inventory management process and prompting reorders
Reducing on-hand inventory while eliminating stock outs
Automating customer account management (order entry, demand planning, forecasting, inventory replenishment logistics)
Utilizing space more efficiently
Eliminating the manual effort required for some processes
Alerting managers when delays occur
Enhancing customer service
Proactively delivering support ticket information
For example, for many years Energy Manufacturing Company was wasting time and valuable resources trying to streamline its massive inventory of seals and O-rings used to manufacture cylinders for the fluid power industry. In 2016, it partnered with ShelfAware, a supply chain automation platform that equips B2B suppliers with a next generation, RFID-powered inventory management platform.
Implementing the affordable automation solution allowed Energy Manufacturing to easily customize, automate, and streamline their inventory supply chain operations with sophisticated, but simple to employ, RFID-based technology.
As an immediate result of the partnership, Energy Manufacturing executed a consolidation of 10-to-12 different seal suppliers that they were managing. The RFID-based software now tracks about 600 SKUs with about 6,000 individual bags on their shelves and generates an average of about 20,000 tags per year—comprehensively automating the company's supply chain.
Benefits of Automating Manufacturing Processes
In addition to reducing production costs, reducing waste, increasing efficiency and productivity, and all the other benefits listed above, automating manufacturing processes can provide companies with other significant advantages.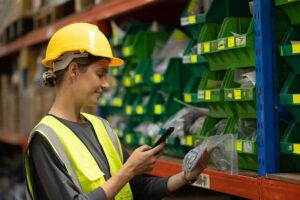 Automating marketing and sales processes help businesses generate more leads and close more sales—keeping them profitable and competitive in the business landscape. Automation helps manufacturers reduce the time required to bring products to market. In any business environment, automated tasks can be used to improve the quality, production, and expediency that your customers expect.
While some argue that automation negatively affects the job market, the opposite is true. Automation helps to create new job positions and promotes skills improvement—which can lead to higher-paying, more meaningful work for employees.
Want to learn more about an affordable way to automate your supply chain? Request your free ShelfAware demo 
Too good to be true?  ShelfAware is redefining the vendor-managed inventory industry. For this reason, we're happy to talk to you about how our intelligent inventory platform can benefit your business. Contact us today for more information.
More articles about using inventory management to solve supply chain challenges:
How Energy Manufacturing Tackled Inventory Challenges with an Affordable, Easy-to-Use Supply Chain Solution
What Kinds of Manufacturing Businesses Can Benefit from Inventory Management Software? 
Top 10 Advantages of RFID Inventory Tracking
7 Ways to Save Time and Money with an RFID Inventory Management System