Welcome to the era of disruptive technology! Yeah yeah you say, another trendy article on vague, over used concepts like IoT, Big Data & Industry 4.0. You might think those are esoteric concepts that the "Big Guys" can waste time exploring and you are usually right. But read on because we can assure you that these big concepts are being executed today by small businesses to disrupt supply chains using ShelfAware. ShelfAware has combined cutting edge RFID hardware with easy to use software all packaged in a very practical, efficient platform to help anyone automate their supply chain. Then we have taken it one step further allowing other suppliers to collaborate on the supply chain, the platform play. We have keyed on the fact small businesses are better positioned to use technological innovations to disrupt because their small size makes them inherently nibble and capable of incremental innovation that leads to big disruption. So read on  as we dig into these key features of the ShelfAware platform.
Making sense of the Buzz Words.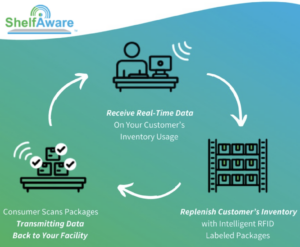 For the last several years publications have run cover articles concerning the revolutionary power of concepts like IoT, Automation, and the even more general concept of Industry 4.0. Cutting through the buzz words and putting these theories into practice is something the team at ShelfAware has been doing since 2012. Our solutions were born inside industry, not as a theory in some think tank, or a research project at a fortune 500 company. We began executing these concepts on a micro scale inside our family business, an industrial distribution company. This grass roots development process has allowed ShelfAware to mature quickly as a practical solution for our current supply chain problems.  So when we talk about the IoT and Automation its not because we are trendy. We are far from trendy. We are explaining what we do on the daily, the world we live in. We are living in an Industry 4.0. We have invented and use "things" from internet of things. Come along with us we tackle today's problems with today's technology.
The Platform play. Power through COllaboration 
As if it wasn't enough to create an IoT supply chain system we had to take it one step further and build out a platform. We have created a collaborative eco-system that supports multiple product suppliers all collaborating to drive supply chain initiatives at one consumer. Why pursue the collaboration model in industrial supply chains? Simple because its the perfect time to pursue a new route to supply chain perfection. The market has been moving towards this idea of supplier consolidation for decades. This idea has produced industrial supply giants like Fastenal, Granger, and Amazon. These giants are good at supplying everything, but experts in nothing. They can sell you a new gearbox, but they can't help you install it. We can push back on this idea by combining the skills and expertise of several niche suppliers into a single, efficient supply chain platform. Through ShelfAware consumers can source engineered products from the company that designed them, not some clueless giant industrial distributor. Source products from suppliers who specialize in  a single product category and get supporting services like design, engineering, and onsite troubleshooting. But operate efficiently with all of these suppliers through a singular, automated supply chain platform.
WHERE TO START?
More good news here. We can start anywhere, on either end of the B2B supply chain with any product vertical. ShelfAware's system is flexible enough to go anywhere, so whether you are a supplier looking to offer your customer's the next level of service or a consumer looking to solve problems with your supply chain you can look to ShelfAware for the solution. We can quickly come alongside any B2B supply chain and return an immediate ROI. Give us a call or fill out our online inquiry form today.